Social Media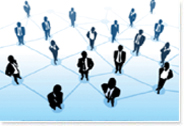 The High-Tech High-Touch Revolution
Social Media has taken the web from being just bunch of web sites, search engines, message boards and chat rooms to being a high interactive tech medium that enhances relationships, communities and interest groups. Facebook reunites old friends, allows communities and clubs to share and keeps families in touch. Twitter allows individuals to broadcast information to thousands in an instant. Linkedin allows professionals to network and market themselves to the world for free. Blogs allow the common man to speak their mind to the world. While, these tools can be used to effectively enhance your reputation, they can also destroy your reputation in a nanosecond.
Are you making these tools work for your organization? What kind of footprint does your organization have on the web? Is it good or bad? Are you keeping up with what is said about you on the web?

If something bad is said about you or your organization on the web, is there enough good already out there to dilute it? If you do not like the answers to these questions you should consider getting help and help may not cost that much. Many times an effective short consultation with our social networking consultant, Martin Brossman, can help you in getting the right programs in place to make social networking tools on the web work effective for you.
Read move about social media on the web
We offer the following services:
Affordable Social Media Programs
Reputation Management
Facebook, Linkedin, Twitter and Blog Implementation
Linked in Training
Social Media Training Programs
---