Steps to Building an Audience for Content Marketing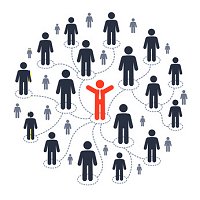 One of the most important components to market successfully through social media is to have an audience. Publishing quality, relevant content on the internet is great, but to really get it noticed, your content needs to get to those who have an interest in it and have a relationship with you. Interested subscribers are targeted and recruited, while relationships are built.
Size of your audience can be important, but the quality of your audience is more important. Relevance of your content to your audience determines whether or not you are entertaining interested subscribers or being a nuisance. One of the things that I like about Googleplus is that you can set up more than one circle. Teenagers do not want their parents to see their Facebook posts to their friends, and some family and friends may not be interested in your business articles. In Googleplus, you can segment your subscribers based on relationship and interest.
Here are some ideas to increase your your social media audience:
Define who you are trying to reach (prospects, customers, industry peers, those who refer you business, etc.)
Make your social media platforms accessible with social media buttons and links on your web site and marketing materials.
Ask for likes and follows for your company pages.
Like and follow company pages that you are interested in or have relationships with.
Push out quality content…People will want to like, comment and pass it on.
Run promotions and contests.
Ask for joins and reviews on emailed follow ups and surveys with customers.
Do not abuse your audience with endless posts (old age advertising). They will check out.
Explore investing money into Google, Facebook, Linkedin and other advertising to attract subscribers.
Perform speaking engagements and host seminars.
Use these steps to build an audience:
 Build your marketing plan and define your audience.
Use creative ways to reach out to your target audience and get subscribers.
Research your audience to determine what is relevant content to them.
Create and provide relevant content "consistently" to your audience.
Monitor activity and adjust.
Stay creative.
***Note: Gaming Facebook, Linkedin, Twitter etc to get large lists of names with whom you have no relationship merely enables you to beat your sword on a rock. In today's subscriber based system, pushing out content to those who aren't interested is a wasted effort.